News Briefs
"Understanding Corrections and Education" Activity on Campus of Escola Choi Nong Chi Tai (2020-11-10)
Jointly organized by the Correctional Services Bureau and the Education and Youth Affairs Bureau, an "Understanding Corrections and Education" campus activity was held on 10 November at Escola Choi Nong Chi Tai. In the activity, our personnel interacted with approximately 130 senior secondary 2 students of the school, enhancing their knowledge about corrections and law-abidingness and promoting a spirit of care and inclusiveness in the community.
In the activity, a short video introducing the responsibilities and missions of correctional services were played to the students; there was also a Q&A session featuring real-life scenarios in which the current younger generation is particularly prone to accidentally breaking the law, so as to raise the students' alertness and self-protection awareness against crimes and prevent them from the temptations of crime. The students gave enthusiastic response to the questions asked and paid full attention to the crime prevention tips shared by the hosts of the activity.
The Bureau's care buddy, Shiny, also came to the activity venue, interacting with students and calling on acceptance of and support to inmates and juvenile delinquents' social reintegration and rehabilitation, to the positive responses of students.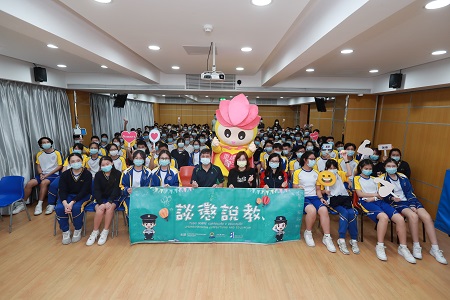 On 10 November, Correctional Services Bureau personnel conducted the "Understanding Corrections and Education" activity on campus of Escola Choi Nong Chi Tai, promoting correctional services and the message of crime prevention.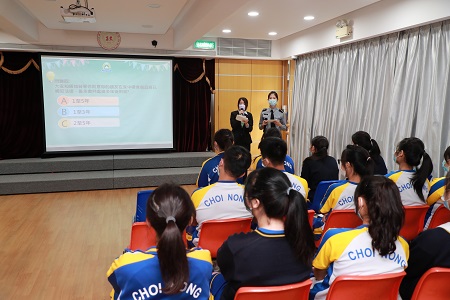 Our personnel explain to the youngsters the kinds of crimes to which they are particularly susceptible,urging them to always think twice before they act and be vigilant against crimes.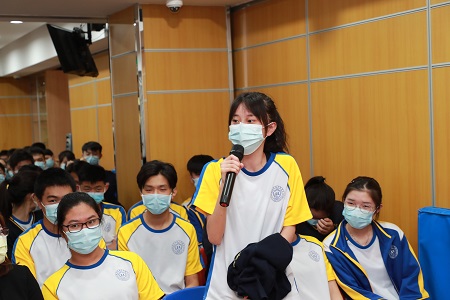 Students actively participate in the Q&A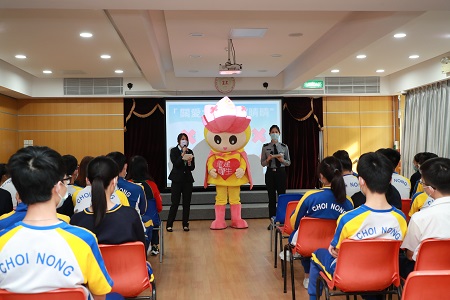 Shiny the care buddy makes an appearance to call for support to offender rehabilitation

Vice-principal Tam Seak Tim urges the students to refrain from breaking the law and to support inmates and juvenile delinquents' reentry into society.