News Briefs
Correctional Services Bureau Holds Award Presentation Ceremony (2020-12-11)
On 11 December morning, the Correctional Services Bureau held an award presentation ceremony at the hall of the Academy of Public Security Forces of Macao to recognize the outstanding work performances, boost the morale and express gratitude for the long-term contributions of the staff. The ceremony was hosted by the Secretary for Security Wong Sio Chak and the Chief of Office of the Secretary for Security Cheong Ioc Ieng.
This year, a total of three working teams and 62 staff members were commended with an award, and 95 staff members were presented with the honorable retirement or long-time service commemorative trophy. At the ceremony, Director of the Correctional Services Bureau Cheng Fong Meng gave a review of our work in 2020, thanked the entire staff for standing fast on their posts during the epidemic and urged everyone to steadfastly uphold team spirit and be willing to take charge. Following the example of the SAR Government's efficient and effective epidemic prevention and control measures, the Correctional Services Bureau, under the guidance of the superior authorities, the efforts of the entire staff and the cooperation of members of the public, adopts the strategy of "prevention of infections from outside and guarantee of safety inside" and spares no effort to avoid the spread of the disease to correctional facilities, protect the health of the staff, inmates and juvenile delinquents and guarantee the safety in Coloane Prison and the Youth Correctional Institution.
Bearing in mind the importance of epidemic prevention work, the Bureau adjusts the way of delivering social rehabilitation services, including implementing measures to ensure the education of inmates and juvenile delinquents despite class suspension and the provision of counseling services through the use of the video conference system, video screenings, leaflet distribution and the "Letter with Love" correspondence support scheme. The "Home outside the Prison" scheme and the "Employment Scheme for Pre-release Inmates" were also maintained.
As for promotion and education programs in the community, the Correctional Services Bureau held its first-ever parents-oriented talk titled "A Talk on Family Love" as well as continued with the "Understanding Corrections and Education" activity on local campuses to promote the message of crime prevention and support to social rehabilitation. Meanwhile, the Bureau also carried on with its efforts to promote system reform, optimize the career system for the prison guards, introduce technologies for enhanced security within the Prison as well as cooperate with the public works department on the New Prison construction project.
In the future, the Correctional Services Bureau will continue to actively carry out its missions and protect the stability and safety of Macao's society while implementing normalized epidemic prevention and control work and thoroughly upholding the SAR Government's governance philosophy of "Unity and Efforts, Change and Innovation" and the security sector's three policing philosophies and policy objectives.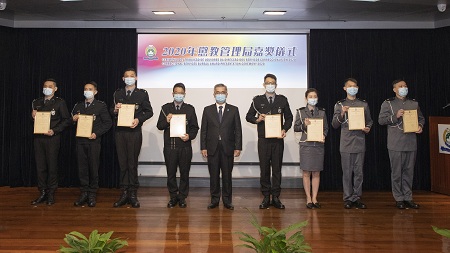 Secretary for Security Wong Sio Chak presents individual awards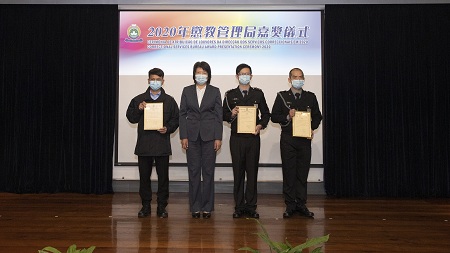 A group photo of the guests and the award and trophy recipients during the ceremony